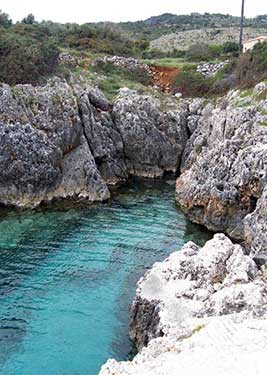 The estate of Traverso Villas is situated next to the see front of Skinari village. The villas follow the traditional architecture of local village houses. They are build in the middle of a beautiful garden full of Mediterranean flowers and trees.
The access to the sea is just through the terrace of the premises. Since Traverso Villas is next to the coast our visitors are privileged to be the only ones to have access to this particular place. In the terrace the visitors can relax under the shade and enjoy the view of the Skinari sea.
The area is quiet and relaxing, still traditionally Greek and has not been commercialised for tourists. It is the ideal location to enjoy a relaxing holiday and is close to the Island's famous Blue Caves and Shipwreck with daily boat tripsevery hour.
Also nearby is the port which has daily boats going to the nearby Island of Kefalonia and just a strole away is the natural health spa of Xigia.
We, the owners of Traverso Villas, will assist you as best as we can in order to provide you the most pleasant holiday experience ever.